What are the odds that an avant garde Austrian art group was given access to the 91st floor of the North Tower of the World Trade Center to remove windows, erect platforms outside the structure and leave material that could only be viewed by a close passing helicopter on a clear day? Well they are 100%.

What are the odds the art troupe are named after an explosive called Gelatin? What are the odds this group is sponsored by a cultural group who has an Israeli agent as a member who lived blocks from Mohammed Atta the terrorist who hated modern art and crashed an aircraft into it? Well they are 100%.

What are the odds that the markings on the cases that lined the walls of the space they were using were the same markings used for a special fuse holder assembly that allows for complex wiring? Well they are 100% too.

What are the odds the New York Times actually published a full page feature in August even showing pictures of the artists at work? Yes 100%.

What are the odds the graphic above if found in the hands of a Muslim in Iraq or Afghanistan would get you a one way ticket to Guantanimo with no chance to escape the water boarding season? Well more than 100% for sure.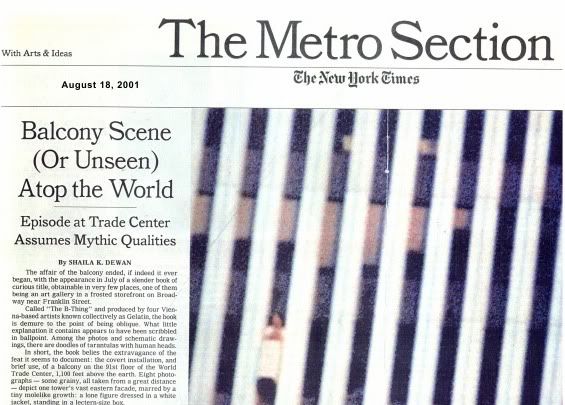 FULL TEXT IN PRINT
PDF OF ABOVE
Of course not to be outdone Gelatin produced a book on their exploits at the World Trade Center.



The B-Thing

Walter König, Cologne, 2001
ISBN: 3-8837-507-9
32 pages, colour throughout, embossed hard covers
Text: Tex Rubinowitz
Photos: Maria Ziegelböck, Thomas Sandbichler, Susanne Wimmer, gelatin
Layout: Johannes Heuer


The B-Thing uncovers the truth behind the rumours of Gelatin's construction of an improvised balcony on the 91st floor of the World Trade Centre in New York. Through preparatory notes written by the boys, diagrams and colour photographs, we are finally able to glimpse the pink sunrise over New York from Gelatin's eyes.



REST HERE: