http://sipseystreetirregulars.blogspot.com/2013/02/wait-i-thought-only-cops-and-military.html
UPDATE:
WTF?
There's TWO versions of his manifesto:
The one which he not only calls for gun control but gives high praise for a number of high level dirtbags:
http://pastebin.com/TAzPRfPy
And this shorter one which, doesn't:
http://www.scribd.com/doc/124363332/Christopher-Jordan-Dorner-Manifesto
Now is he a elitist cop who's been kicked to the curb and wanting revenge, or a budding Patriot?
COINTEL at work either way.
Hope he stacks em' high.
UPDATES:
Search widens:
http://www.cbc.ca/news/world/story/2013/02/07/los-angeles-manhunt.html
Two women, one man shot by rattled cops protecting one of Dorner's targets:
http://www.myfoxla.com/story/21046670/two-women-one-man-shot-at-by-mistake-by-police-protecting-target
http://www.latimes.com/news/nationworld/nation/wire/la-me-manhunt-ex-lapd-officer-pictures,0,268116.photogallery
An FBI agent checks cars as they leave the Big Bear ski resort on Club View Drive looking for shooting suspect Christopher Dorner. The resort was closed after Dorner was believed to be in the area.
http://latimesblogs.latimes.com/lanow/2013/02/riverside-police-ambushed-by-shooter-official-says.html
2/8 UPDATE:
The Two Manifestos of Christopher Dorner:
http://freedomguide.blogspot.com/2013/02/the-two-manifestos-of-christopher-dorner.html
a line by line analysis of the two versions... the longer one is FAKE GOVERNMENT SPIN TO ROB DORNER OF POPULAR SUPPORT AND TO BUTTRESS THEIR GUN CONTROL AGENDA
Jim Stone backs me up:
http://www.jimstonefreelance.com/lapd.html
SO IS DRUDGE REPORT
The original, IN FULL which I grabbed immediately off Christopher´s facebook page is well preserved on this site, and will be permanently available here
THE MSM HAS INSERTED A WHOLE BUNCH OF WACKY CRAP INTO IT TO MAKE HIM LOOK NUTS. THIS MANIFESTO I HAVE POSTED ABOVE IS THE UNADULTERATED ORIGINAL, PULLED OFF HIS FACEBOOK PAGE ALMOST THE MOMENT HE POSTED IT. THANKFULLY THIS TIME I NAILED SOMETHING WITH PERFECT TIMING
"Rogue" LAPD officer Christopher Jordan Dorner may be a hero
Christopher is the former LAPD officer who is currently on a rampage against the LAPD. Of course there is little chance of him being supported in the MSM, which fully supports thuggish police officers.
Take a look at these quotes from his ORIGINAL UNADULTERATED UNCENSORED manifesto, which I am certain will be overlooked by virtually everyone. There is nothing at all about Bill Cosby or Michelle Obama's hair here.
"Citizens/non-combatants, do not render medical aid to downed officers/enemy combatants. They would not do the same for you. They will let you bleed out just so they can brag to other officers that they had a 187 caper the other day and can't wait to accrue the overtime in future court subpoenas. As they always say, "that's the paramedics job…not mine". Let the balance of loss of life take place. Sometimes a reset needs to occur.
Don't honor these fallen officers/dirtbags. When your family members die, they just see you as extra overtime at a crime scene and at a perimeter. Why would you value their lives when they clearly don't value yours or your family members lives? I've heard many officers who state they see dead victims as ATV's, Waverunners, RV's and new clothes for their kids. Why would you shed a tear for them when they in return crack a smile for your loss because of the impending extra money they will receive in their next paycheck for sitting at your loved ones crime scene of 6 hours because of the overtime they will accrue. They take photos of your loved ones recently deceased bodies with their cellphones and play a game of who has the most graphic dead body of the night with officers from other divisions."
"I am here to change and make policy. The culture of LAPD versus the community and honest/good officers needs to and will change. I am here to correct and calibrate your morale compasses to true north."
"From 2/05 to 1/09 I saw some of the most vile things humans can inflict on others as a police officer in Los Angeles. Unfortunately, it wasn't in the streets of LA. It was in the confounds of LAPD police stations and shops (cruisers). The enemy combatants in LA are not the citizens and suspects, it's the police officers."
"It is endless the amount of times per week officers arrest an individual, label him a suspect-arrestee-defendant and then before arraignment or trial realize that he is innocent based on evidence. You know what they say when they realize an innocent man just had his life turned upside down?. "I guess he should have stayed at home that day he was discovered walking down the street and matching the suspects description. Oh well, he appeared to be a dirtbag anyways". Meanwhile the falsely accused is left to pick up his life, get a new, family, friends, and sense of self worth."
"To those children of the officers who are eradicated, your parent was not the individual you thought they were. As you get older,you will see the evidence that your parent was a tyrant who loss their ethos and instead followed the path of moral corruptness. They conspired to hide and suppress the truth of misconduct on others behalf's. Your parent will have a name and plaque on the fallen officers memorial in D.C. But, In all honesty, your parents name will be a reminder to other officers to maintain the oath they swore and to stay along the shoreline that has guided them from childhood to that of a local, state, or federal law enforcement officer."
His full manifesto is here
They lost track of him for the moment...
http://www.cbsnews.com/8301-201_162-57568339/christopher-dorner-manhunt-search-for-ex-lapd-cop-goes-on-amid-calif-snowstorm/
http://abcnews.go.com/US/christopher-dorner-manhunt-cops-search-suspected-cop-killer/story?id=18437045
Oh, California is considering even more gun control than they do now:
http://www.sbsun.com/breakingnews/ci_22544460/californias-state-senate-democrats-roll-out-big-gun
Remember: if a bunch of children are murdered... maybe this is a false flag as well... there's a bunch of gun control legislation waiting to be approved in the night.
2/9 UPDATE
LAPD GO NED AND JIMBO, SHOOT ANYONE REMOTELY LOOKING LIKE DORNER:
DORNER SENDS CNN LETTER CONTAINING DVD, COIN:
http://cnn.com/video/data/2.0/video/bestoftv/2013/02/08/ac-bill-bratton-dorner-package.cnn.html
2/11 UPDATE
Details emerge in LAPD's mistaken shooting of newspaper carriers
The women were victims of 'a tragic misinterpretation' by officers working under 'incredible tension,' LAPD Chief Charlie Beck says.
Police investigators examine a blue pickup truck riddled with bullets on Redbeam Avenue in Torrance. Officers, thinking shooting suspect Christopher Dorner might have been in the vehicle, unleashed a fusillade, wounding a woman and her mother.
(

Bob Chamberlin / Los Angeles Times

/

February

7

, 2013

)
The officers' radio crackled with an urgent warning: He could be coming your way.
It was around 5 a.m. in Torrance on Thursday and police from nearby El Segundo had seen a pickup truck exit a freeway and head in the general direction of the Redbeam Avenue residence of a high-ranking Los Angeles police official, which was being guarded by a group of
LAPD
officers.
Police were on the lookout for
Christopher Jordan Dorner
, a disgruntled ex-cop suspected of hunting down members of the LAPD and their families in a twisted campaign of revenge. The radio call indicated that the truck matched the description of Dorner's gray Nissan Titan.
PHOTOS: Manhunt for ex-LAPD officer
A few minutes later, a truck slowly rolled down the quiet residential street.
As the vehicle approached the house, officers opened fire, unloading a barrage of bullets into the back of the truck. When the shooting stopped, they quickly realized their mistake. The truck was not a Nissan Titan, but a Toyota Tacoma. The color wasn't gray, but aqua blue. And it wasn't Dorner inside the truck, but a woman and her mother delivering copies of the Los Angeles Times.
In an interview with The Times on Friday, LAPD Chief Charlie Beck outlined the most detailed account yet of how the shooting unfolded. Margie Carranza, 47, and her mother, Emma Hernandez, 71, were the victims of "a tragic misinterpretation" by officers working under "incredible tension," he said. Just hours before, Dorner allegedly shot three police officers, one fatally. And, in an online posting authorities attributed to him, Dorner threatened to kill more police and seemed to take responsibility for the slaying over the weekend of the daughter of a retired LAPD captain and her fiance.
Beck and others stressed that the investigation into the shooting is in its infancy. They declined to say how many officers were involved, what kind of weapons they used, how many bullets were fired and, perhaps most important, what kind of verbal warnings — if any — were given to the women before the shooting began.
FULL COVERAGE: Sweeping manhunt for ex-cop
Law enforcement sources told The Times that at least seven officers opened fire. On Friday, the street was pockmarked with bullet holes in cars, trees, garage doors and roofs. Residents said they wanted to know what happened.
"How do you mistake two Hispanic women, one who is 71, for a large black male?" said Richard Goo, 62, who counted five bullet holes in the entryway to his house.
Glen T. Jonas, the attorney representing the women, said the police officers gave "no commands, no instructions and no opportunity to surrender" before opening fire. He described a terrifying encounter in which the pair were in the early part of their delivery route through several South Bay communities. Hernandez was in the back seat handing papers to her daughter, who was driving. Carranza would briefly slow the truck to throw papers on driveways and front walks.
As bullets tore through the cabin, the two women "covered their faces and huddled down," Jonas said. "They felt like it was going on forever."
Hernandez was shot twice in her back and is expected to recover. Her daughter escaped with only minor wounds from broken glass.
Though Beck said he does not doubt the women did not hear any verbal commands, he emphasized that it was still possible the officers did attempt to stop the vehicle before opening fire. And, while not commenting specifically on this shooting, Beck said it was not difficult to imagine how officers who were already on edge could make the mistake these officers did.
"As an officer, you look for cues. You know how someone drives normally and then you see someone coming at you slowly, driving in the middle of the street, stopping and starting. That can be misinterpreted," he said.
Beck said he had not yet received a detailed briefing, which typically occurs a few days after officer-involved shootings to give investigators time to collect evidence and put together the basic summary of what happened. But he did say that the gunfire occurred in two bursts: The first came from an officer positioned down the block from the LAPD official's residence, and the second when Carranza accelerated away from the gunfire and toward other officers.
After the investigation is completed, Beck and an oversight board will decide if officers were justified in the shooting or made mistakes that warrant either punishment or training.
Jonas estimated that the officers fired between 20 and 30 rounds. Photographs of the back of the truck showed at least two dozen bullet holes. Neighbors, however, suggested there were more shots fired.
A day after the shooting, residents in the street surveyed the damage.
Kathy Merkosky, 53, was outside her stucco home pointing out the six bullet holes in the bumper and grill of her silver Acura MD-X. She knew her truck was damaged when she spotted it on television and "saw fluid flowing into the street."
Her Ford Focus was hit as well — a bullet shattered the windshield and another flattened a front tire.
"I've never heard gunfire on my street," Merkosky said. "Or ever in my life.... I hope they catch the guy so all this craziness will end."
Goo also was startled by the early-morning blasts.
"When I heard all the pop-pop-popping, I dropped to the ground, crawled around and pulled my wife out of the bed and I got on top of her," he said.
Goo said he could hear the bullets hitting the front door and feared they were coming through the house. He said he called 911 for the police, but was notified that they were already there.
joel.rubin@latimes.com
angel.jennings@latimes.com
andrew.blankstein@latimes.com
Times staff writers Kate Mather, Phil Willon and Ari Bloomekatz contributed to this report.
http://www.latimes.com/news/local/la-me-torrance-shooting-20130209,1,7955309,full.story
http://co-ironwill.blogspot.com/2013/02/the-drones-have-been-depoloyed-chris.html
The Drones Have Been Deployed - Chris Dorner Manhunt
As was to be expected.
Yesterday, as a task force of 125 officers, some riding Snowcats in the rugged terrain, continued their search, it was revealed that Dorner has become the first human target for remotely-controlled airborne drones on US soil.


A senior police source said: "The thermal imaging cameras the drones use may be our only hope of finding him. On the ground, it's like looking for a needle in a haystack."


Asked directly if drones have already been deployed, Riverside Police Chief Sergio Diaz, who is jointly leading the task force, said: "We are using all the tools at our disposal."


The use of drones was later confirmed by Customs and Border Patrol spokesman Ralph DeSio, who revealed agents have been prepared for Dorner to make a dash for the Mexican border since his rampage began.


He said: "This agency has been at the forefront of domestic use of drones by law enforcement. That's all I can say at the moment."

(source)



THE TWO MANIFESTOS OF CHRISTOPHER DORNER:
WHY HE FIGHTS
http://www.thiscantbehappening.net/node/1575
Wanted: Dead, Not Alive: The LAPD is Afraid of What Renegade Cop Chris Dorner has to Say
Let's not be too quick to dismiss the "ranting" of renegade LAPD officer Chris Dorner.
Dorner, a three-year police veteran and former Lieutenant in the US Navy who went rogue after being fired by the LAPD, has accused Los Angeles Police of systematically using excessive force, of corruption, of being racist, and of firing him for raising those issues through official channels.
By all media accounts, Dorner "snapped" after his firing, and has vowed to kill police in retaliation. He allegedly has already done so, with several people, including police officers and family members of police already shot dead.
Now there's a "manhunt" involving police departments across California, focussing on the mountains around Big Bear, featuring cops dressed in full military gear and armed with semi-automatic weapons.
Nobody would argue that randomly killing police officers and their family members or friends is justified, but I think that there is good reason to suspect that the things that Dorner claims set him off, such as being fired for reporting police brutality, and then going through a rigged hearing, deserve serious consideration and investigation.
The LAPD has a long history of abuse of minorities (actually the majority in Los Angeles, where whites are now a minority). It has long been a kind of paramilitary force -- one which pioneered the military-style Special Weapons and Tactics (SWAT) approach to "policing."
If you wanted a good example to prove that nothing has changed over the years, just look at the outrageous incident involving LAPD cops tasked with capturing Dorner, who instead shot up two innocent women who were delivering newspapers in a residential area of Los Angeles. The women, Margie Carranza, 47, and her mother, Emma Hernandez, 71 (now in serious condition in the hospital), were not issued any warning. Police just opened fire from behind them, destroying their truck with heavy semi-automatic fire to the point that it will have to be scrapped and replaced. The two women are lucky to be alive (check out the pattern of bullet holes in the rear window behind the driver's position in the accompanying photo). What they experienced was the tactics used by US troops on patrol in Iraq or Afghanistan, not the tactics that one expects of police. Their truck wasn't even the right make or color, but LAPD's "finest" decided it was better to be safe than sorry, so instead of acting like cops, they followed Pentagon "rules of engagement": They attempted to
waste
the target.
LAPD officers fired on this car with clear intent to kill (check out the bullet holes behind the driver-seat position). Trouble was, it was the wrong make and wrong color, and instead of Dorner, it was two Latino women, one of whom is now in serious condition from her wounds. No warning was given before the barrage.
Local residents say that after that shooting, which involved seven LAPD officers and over 70 bullets expended, with nobody returning fire, the street and surrounding houses were pockmarked with bullet holes. The
Los Angeles Times reports
that in the area, there are "bullet holes in cars, trees, garage doors and roofs."
In roofs?
What we had here was an example of a controversial tactic that the military employed in the Iraq War, and still employs in Afghanistan, called "spray and pray" -- a tactic that led directly to the massive civilian casualties during that US war.
We shouldn't be surprised that two brown-skinned women were almost mowed down by the LAPD--only that they somehow survived all that deadly firing directed at them with clear intent to kill.
The approach taken by those cop-hunting-cops of shooting first and asking questions later suggests that the LAPD in this "manhunt" for one of their own has no intention of capturing Dorner alive and letting him talk about what he knows about the evils rampant in the 10,000-member department. They want him dead.
When I lived in Los Angeles back in the 1970s, it was common for LAPD cops to bust into homes, gestapo-like, at 5 in the morning, guns out, to arrest people for minor things like outstanding court warrants for unpaid parking tickets, bald tires, or jaywalking.
Police helicopters also used to tail me -- then an editor of an alternative news weekly -- and my wife, a music graduate student, as we drove home at night. Sometimes, they would follow us from our car to front door with a brilliant spotlight, when we'd come home at night to our house in Echo Park. It was an act of deliberate intimidation. (They also infiltrated our newspaper with an undercover cop posing as a wannabe journalist. Her job, we later learned, was to learn who our sources were inside the LAPD -- sources who had disclosed such things as that the LAPD had, and probably still has, a "shoot-to-kill" policy for police who fire their weapons.)
Friends in Los Angeles tell me nothing has changed, though of course the police weaponry has gotten heavier and their surveillance capabilities have gotten more sophisticated and invasive.
It is clear from the LAPD's paramilitary response to the Occupy movement in Los Angeles, which included planting undercover cops among the occupiers, some of whom reportedly were agents provocateur who tried to encourage protesters to commit acts of violence, and which ended with police violence and gratuitous arrests, as in New York, that nothing has changed.
In other words, Dorner may be irrational, but he ain't crazy.
A black military veteran, Dorner joined the police because he reportedly believed in service. Unable to go along with the militarist policing he saw on the job, he protested through channels and was apparently rewarded by being fired. Now, in his own violent way, he is trying to warn us all that something is rotten in the LAPD, and by extension, in the whole police system in the US. Police departments almost everywhere in the US, have morphed, particularly since 9/11/2001, from a role of providing public safety and law enforcement into agencies of brutal fascist control.
As Dorner says in his lengthy
manifesto
(actually quite explicit and literate, but described as "ranting" in corporate media accounts), in which he explains his actions and indicts the LAPD, "The enemy combatants in LA are not the citizens and suspects, it's the police officers."
That could be said of many US police departments, I'm afraid.
Example: Last fall, I had the experience of trying to hitchhike in my little suburban town. A young cop drove up and informed me (incorrectly, it turns out) that it was illegal to hitchhike in Pennsylvania. When I expressed surprise at this and told him I was a journalist working on an article on hitchhiking, he then threatened me directly, saying that if I continued to try and thumb a ride, he would "take you in and lock you up."
When I called a lawyer friend and said I was inclined to take the officer up on that threat, since I was within my rights under the law hitchhiking as long as I was standing off the road, he warned me against it, saying, "You don't know what could happen to you if you got arrested."
And of course he's right. An arrest, even a wrongful arrest, in the US these days can lead to an added charge -- much more serious -- of resisting arrest, with a court basing its judgement on the word of the officer in the absence of any other witnesses. It can also lead to physical injury or worse, if the officer wants to lie and claim that the arrested person threatened him or her.
If I had been in Los Angeles, I would most likely have been locked up for an incident like that. Forget about any warning. You aren't supposed to talk back to cops in L.A. And if you are black or Latino, the results of such an arrest could be much worse.
I remember once witnessing LAPD cops stopping a few Latino youths who had been joyriding in what might have been a stolen car. There was a helicopter overhead, and perhaps a dozen patrol cars that had converged on the scene, outside a shopping mall in Silverlake. I ran over to see what was happening and watched as the cops grabbed the kids, none of whom was armed, out of the vehicle and slammed them against the car brutally. It was looking pretty ugly, but by then neighbors from the surrounding homes, most of them Latino, who had poured out onto their lawns because of the commotion, began yelling at the cops. One man shouted, "We see what you're doing. These boys are all healthy. If anything happens to any of them after you arrest them we will report you!"
The cops grudgingly backed off in their attack on the boys, and took them away in a squad car. I don't know what happened to them after that, but they were most certainly saved, by quick community response, from an on-the-spot Rodney King-style beating that could have seriously injured them, or worse.
As things stand right now, with the LAPD gunning for Dorner, and wanting him dead and silenced, not captured, the public has to worry that it has more to fear from the LAPD than it has to fear from Dorner himself. At least Dorner, in his own twisted way, has specific targets in mind. The LAPD is in "spray and pray" mode.
Chris Dorner, in happier days, now a fugitive on the run from the LAPD "manhunters"
Hopefully, Dorner will realize he can do more by figuring out a safe way to "come in from the cold" so he can try to testify about LAPD crimes, than by killing more cops. If he does manage to surrender, he'd better have a lot of support lined up to keep him safe while in custody.
It's already clear that a lot of people in the LAPD want him dead.
http://www.theoccidentalobserver.net/2013/02/christopher-dorner-the-lapd-is-a-racial-dystopia/

Dorner says he is targeting not only the families of the people he thinks wronged him, but the entire LAPD. And his professed reason is the racial politics of the department. He sees the LAPD in starkly racial terms where all the races are to blame for what he sees as a sort of racial dystopia—a war of all against all, where racial identity is everything:


Those Caucasian officers who join South Bureau divisions (77th,SW,SE, and Harbor) with the sole intent to victimize minorities who are uneducated, and unaware of criminal law, civil law, and civil rights. You prefer the South bureau because a use of force/deadly force is likely and the individual you use UOF on will likely not report it. You are a high value target.
Those Black officers in supervisory ranks and pay grades who stay in south bureau (even though you live in the [San Fernando] Valley or [Orange County]) for the sole intent of getting retribution toward subordinate caucasians officers for the pain and hostile work environment their elders inflicted on you as probationers (P-1′s) and novice P-2's. You are a high value target. You perpetuated the cycle of racism in the department as well. You breed a new generation of bigoted caucasian officer when you belittle them and treat them unfairly.
Those Hispanic officers who victimize their own ethnicity because they are new immigrants to this country and are unaware of their civil rights. You call them wetbacks to their face and demean them in front of fellow officers of different ethnicities so that you will receive some sort of acceptance from your colleagues. I'm not impressed. Most likely, your parents or grandparents were immigrants at one time, but you have forgotten that. You are a high value target. …
Those Asian officers who stand by and observe everything I previously mentioned other officers participate in on a daily basis but you say nothing, stand for nothing and protect nothing. Why? Because of your usual saying, " I……don't like conflict". You are a high value target as well.

So we have White cops victimizing Blacks and Latinos, Black cops victimizing Whites (who then develop hatred toward Blacks as a reaction), Latino cops victimizing their own, and Asians trying not to get involved. I can't say that I am surprised by any of this, except I would have thought that Latino cops would be more aggressive in standing up for their people, especially with a Latino mayor and given that they constitute a majority of LA's population. I rather doubt that, if true, this will continue as Latino political power increases. In general, Latinos are behaving quite aggressively in LA. It's well known that Blacks and Latinos are basically at war (e.g., "Attack on family in Compton latest incident in wave of anti-black violence: A Latino gang is intimidating blacks into leaving the city that was once an African American enclave. It's part of a violent trend seen in other parts of the L.A. area"), and Dorner recounts an incident in which Latino officers called someone a nigger in his presence. And it's no secret that the organized Latino community has very aggressively pushed for open borders and amnesty.
Asian indifference is interesting—feeding into the image of Asians as non-aggressive.
And then there are the lesbian LAPD officers who hate men: "Those lesbian officers in supervising positions who go to work, day in day out, with the sole intent of attempting to prove your misandrist authority (not feminism) to degrade male officers. You are a high value target."
There's also the claim that police recruits "sang nazi hitler youth songs about burning Jewish ghettos in WWII Germany where [the father of one of the recruits] was a survivor of a concentration camp."
http://www.buzzfeed.com/ellievhall/lapd-killer-found-8000-and-returned-it-to-an-oklahoma-church
Suspected LAPD Killer Found $8,000 And Returned It To An Oklahoma Church In 2002
"'It's an integrity thing,' Chris Dorner told Enid News and Eagle. 'I didn't work for it, so it's not mine. And it was for the church.'"
Image by Facebook
November 5, 2002:
Vance students turn in lost church money
By Robert Barron, Staff Writer
The Enid News and Eagle
ENID, Okla. —
The military stresses integrity. It is apparently a lesson learned well by two Vance Air Force Base students.
An Enid church is a little richer today thanks to the integrity of Lt. Andrew Baugher, a Marine student at Vance, and Ensign Chris Dorner, a Navy student pilot.
The two were driving into Enid Sunday afternoon when they spotted a bank bag in the middle of the road.
After turning around, they picked up the bag and found it contained nearly $8,000. They promptly took the bag to the Enid Police Department
The money belongs to Enid Korean Church of Grace, 724 W. Randolph, and the bag contained $7,792 in cash and checks.
"I thought it was a wallet. We turned around and found it was a bank envelope," Baugher said. "We opened it and found plenty of cash in there."
Baugher said the pair did not know if the money was lost or stolen, but took it to the police department.
"I thought it was a piece of cardboard," Dorner said. "When we passed it I thought it was a large purse and turned around."
When the two opened the envelope, they saw the checks and the church's deposit slip.
Not everyone would have returned the money, but Baugher and Dorner said "it's an integrity thing."
Both were taught honest as children, and integrity is stressed in their military training.
Baugher grew up in Ankeny, Iowa, a small town north of Des Moines, and was raised in a church.
Dorner was raised by his mother in La Palma, Calif., in Orange County. Both men learned the value of honesty as they were raised.
"It was just the right thing to do," Baugher said. "I have loan payments it could have taken care of."
Baugher said he learned the pastor of the church had placed the bag on top of his car and it fell off.
Baugher, a Marine, is a member of the Joint Specialized Undergraduate Pilot Training program at Vance. He hopes to fly an F-18. Dorner, a Navy officer, hopes to fly SH-60 helicopters used for search and rescue and in special operations.
"The military stresses integrity," Dorner said. "There was a couple of thousand dollars, and if people are willing to give that to a church, it must be pretty important to them."
He said it was "a little scary" having that much money in front of him.
Dorner said his mother taught him honesty and integrity.
"I didn't work for it, so it's not mine. And it was for the church," he said. "It's not so much the integrity, but it was someone else's money. I would hope someone would do that for me."
Both students received telephone calls Sunday evening from a church member, whose name they could not understand.
One phrase they did hear was, "God bless you. Thank you."
2/12 UPDATE
Should an armed drone be dispatched to kill Christopher Dorner?
Why should the lives of law enforcement agents be risked to apprehend this suspected domestic terrorist?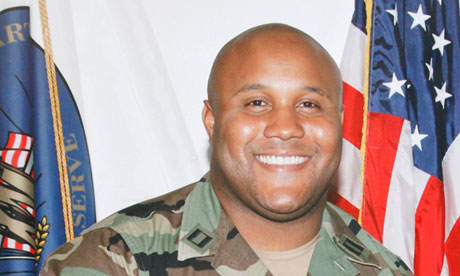 (updated below)
"This will be a war of attrition . . . . I will utilize OSINT to discover your residences, spouses workplaces, and children's schools. IMINT to coordinate and plan attacks on your fixed locations. . . . HUMINT will be utilized to collect personal schedules of targets. I never had the opportunity to have a family of my own, I'm terminating yours. . . . I know your significant others routine, your children's best friends and recess. I know Your Sancha's gym hours and routine. I assure you that the casualty rate will be high."
Or suppose that, as feared, he makes his way into Mexico. What's the objection to sending an armed drone to killing him there?
Question posed on CNN
As Cenk Uygur notes in the video clip below, this question - why not send an armed drone to kill Dorner? - was posed with obvious sincerity by CNN's Erin Burnett late last week. Given how trained the citizenry has become to think this way, this sort of approach is inevitable and therefore deserves serious discussion:
UPDATE
2/13 UPDATE:
RECORDING OF COPS ASKING FOR GAS TO BURN DORNER OUT: WACO 2.0
...
Mike Adams
Natural News
Feb 13, 2013
The LAPD has pulled a Waco. Barely two hours after ordering the media to remove their helicopters from the area and cut all live feeds, the LAPD managed to set fire to the cabin occupied by Christopher Dorner and
burn him alive inside it
, according to media reports.
Mission accomplished for the LAPD, an organization that has run its manhunt more like a rampaging street gang than a professional police department.
As Natural News has already documented
, LAPD officers have engaged in
attempted murder
of innocent citizens in their freakish frenzy to try to kill Dorner.
Their motive explains why LAPD officers
fired tear gas
into the cabin where Dorner was staying,
knowing it would ignite flammable materials in the home
and set the place on fire.
"…tear gas was fired into the house before the fire broke out," reports the
Los Angeles CBS affiliate.
This is the same sort of tactic that was used to burn down the Branch Davidian community in Waco, Texas in 1993. The Waco raid, we all know by now, was a politically-motivated ATF assault against innocent men, women and children, all conducted for the purpose of increasing the visibility and importance of the ATF by creating a crisis where none existed.
Click here to see an informative video
on the subject.
Law enforcement knows full well that tear gas rounds often set homes ablaze. In fact, a California fire department issued a report in 2012 that supports precisely that conclusion. As the
San Jose Mercury News
reported last year:
Police tear gas launched into a Vallejo home in February during a SWAT-team standoff played a role in starting a fire that caused $60,000 in damage and killed two dogs, a fire department report released Monday finds.
The evidence so far
So here's what we know:
1) The LAPD engaged in a wild, frenzied attempt to execute Dorner. This resulted in LAPD officers engaging in the
attempted murder of innocent civilians
, including one surfer and two women in a pickup truck. (Question: Why are LAPD officers who shot at innocent citizens not being charged with attempted murder?)
2) Once Dorner was holed up in a cabin, the LAPD chose to fire tear gas canisters into the home
instead of waiting him out
and forcing a surrender after a long standoff.
3) LAPD officers know full well that tear gas canisters can set off fires.
4) Once the fire broke out, Dorner was a dead man. If he fled the fire, he would be shot down by the LAPD. If he stayed in the cabin, he would be burned alive.
This is the new brand of "justice" the LAPD is dishing out in 2013.
I'm not condoning the actions of Dorner, who appears to have murdered at least four victims. But if the LAPD is going to abandon its mission of public safety and function as an armed vigilante justice squad, dishing out death sentences to those it believes are guilty — without a trial or anything resembling due process — then they might as well throw away all their badges as just call themselves the LA Gang Squad. Because that's how they're acting. They can even have their own gang signs that they flash at each other before running another taxpayer-funded drive-by.
Dorner succeeds where the media has failed
Whether Dorner is really dead at this point or somehow managed to escape the fire (a possibility that has been reported), he has accomplished one astonishing thing that even the media could not achieve: The exposing of the
total criminality of the LAPD
and its complete abandonment of law.
Even if Dorner is dead, the LAPD still comes out of this looking not only utterly incompetent but — even worse –
driven by vengeance
rather than law. As every citizen reading this can easily recognize, that's a very dangerous attitude for a police force to carry. In this frenzied manhunt, the whole world watched while the LAPD exposed itself as
a gang of reckless idiots
who openly fire their guns at innocent civilians and
who ram citizens' vehicles with their police cars
in acts of sheer madness and desperation.
"These lunatics broadsided the side of his truck, spun him around and started shooting at him," said the attorney for one of the victims of the LAPD murder attempts.
The Torrance Police Department, which seems to have abandoned all reason and logic just as the LAPD has done, explained that "Perdue's truck was 'suddenly leaving the area' and seemingly veering into a patrol car when the two vehicles collided at 5:15 a.m." (
Source
)
So now, pulling out of a driveway or simply starting your car and driving away can be interpreted as "suddenly leaving the area," earning you an attempted vehicular manslaughter maneuver by the local police. How's that for public safety, eh?
Dorner's killings were not random; but the LAPD's attempted murders were!
Consider the actual risk of harm here:
Dorner did not engage in RANDOM killings.
Want proof? He did not kill his hostages. He let them live because they weren't on his kill list. And yet the LAPD did, indeed, engage in random acts of attempted murder. Morally and ethically speaking, the LAPD was operating in worse violation than Dorner himself. Killing people who have wronged you is evil, but attempting to kill innocent people
who have nothing to do with anything
is even worse, and that's what the LAPD did.
In fact, if you really look at the situation in retrospect, a typical LA citizen was
far more likely to be killed by the LAPD than by Chris Dorner.
Dorner was a
selective killer
while the LAPD attempted to kill people indiscriminately… seemingly at random.
If you weren't on Chris Dorner's kill list, you had nothing to fear from Dorner. But if you were a black man with a bald head, you had everything to fear from the LAPD! And they proved it by opening fire on not just one innocent person, nor two, but THREE innocent citizens who didn't even resemble Dorner (two of the victims were women, the third was a thin white guy).
No wonder the LAPD was so desperately trying to murder Dorner on sight: the man knew too much. He had seen the inside operations of the LAPD, and he recognized what a runaway criminal operation it was.
None of this justifies Dorner's actions, of course. Making a kill list and murdering people is no way to handle things in a civilized country… unless, of course, you're President Barack Obama, in which case you get a bunch of DoJ lawyers to issue a
16-page memo
"legalizing" your own private kill list that "authorizes" the murder of American citizens.
That's where Obama and Dorner are a lot alike: They both believe in the use of violence, outside of law, to kill their enemies.
Obama uses armed drones
while Dorner used a rifle. Both of them are criminals who operate outside the law, and the only reason Dorner isn't a national hero right now is because he didn't have an army of lawyers working at the DoJ who could sanitize his activities by shoveling lawyerspeak manure all over the place.
Dorner also forgot to call his actions "peace." See, if you kill a bunch of Americans without calling it "peace," then you get chased by the police. But if you call it "peace," as Obama does, you win a Nobel Peace Prize. And then the bombs you drop on children in the Middle East are called "peace bombs."
Dorner's mistake in all this was not that he killed people, you see, it's that he didn't get enough voters to back him first. Once you get the voters behind you, you can kill anybody you want, with no legal recourse whatsoever. That's the precedent recently set by the White House, anyway.
http://latimesblogs.latimes.com/lanow/2013/02/dorner-manhunt-highly-incendiary-hot-gas-used-on-cabin.html
Dorner manhunt: Incendiary tear gas reportedly used on cabin
Faced with regular barrages of gunfire, officers confronting suspected killer Christopher Dorner lobbed incendiary tear gas into the cabin where Dorner allegedly was holed up, said law enforcement officials with knowledge of the situation.
The cabin caught on fire and authorities believe Dorner was burned inside. A body was discovered but authorities have not confirmed it was Dorner.
Law enforcement sources said the officers got into several gun battles with Dorner during a nearly four-hour siege at the cabin in the Big Bear area. The standoff began with Dorner allegedly fatally shot a San Bernardino County sheriff's deputy and seriously injured another.