http://www.guardian.co.uk/commentisfree/2013/feb/11/chris-dorner-drones-lapd
Should an armed drone be dispatched to kill Christopher Dorner?
Why should the lives of law enforcement agents be risked to apprehend this suspected domestic terrorist?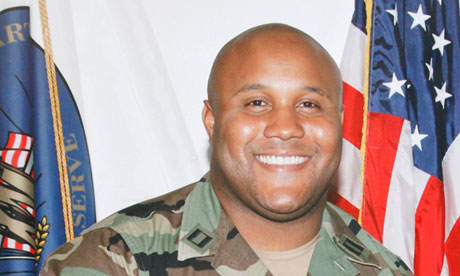 (updated below)
"This will be a war of attrition . . . . I will utilize OSINT to discover your residences, spouses workplaces, and children's schools. IMINT to coordinate and plan attacks on your fixed locations. . . . HUMINT will be utilized to collect personal schedules of targets. I never had the opportunity to have a family of my own, I'm terminating yours. . . . I know your significant others routine, your children's best friends and recess. I know Your Sancha's gym hours and routine. I assure you that the casualty rate will be high."
Or suppose that, as feared, he makes his way into Mexico. What's the objection to sending an armed drone to killing him there?
Question posed on CNN
As Cenk Uygur notes in the video clip below, this question - why not send an armed drone to kill Dorner? - was posed with obvious sincerity by CNN's Erin Burnett late last week. Given how trained the citizenry has become to think this way, this sort of approach is inevitable and therefore deserves serious discussion:
UPDATE