1 IN 2 AMERICANS POOR
http://usnews.msnbc.msn.com/_news/2011/12/15/9461848-dismal-prospects-1-in-2-americans-are-now-poor-or-low-income
Illinois Debtors Thrown In Jail: Lisa Madigan Working To Stop Debt Collector Arrest Warrants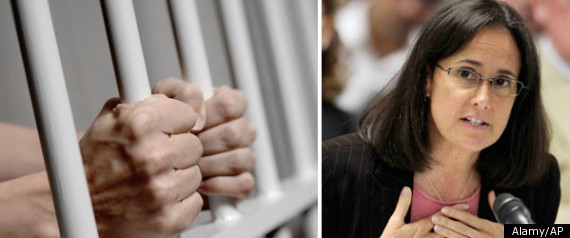 As WBEZ reports,
creditors in the state have figured out ways around laws that prevent them from putting debtors in jail
, and the number of people being issued arrest warrants linked to unpaid bills is growing. Collection agencies can reportedly file a lawsuit requiring a court appearance, and if the defendant doesn't show up for their hearing, an arrest warrant can be issued.
The practice has been happening more often in a stagnant economy, and Illinois Attorney General Lisa Madigan wants to do something about it.
"We can no longer allow debt collectors to pervert the courts," Madigan told the
Wall Street Journal
,
adding that some victims of this practice were thrown in jail without knowing that they were being sued
due to misleading or sloppy paperwork submitted to the court by debt collectors.
NPR
spoke to one Illinois woman who was shocked to learn that a warrant was out for her arrest
:
Take, for example, what happened to Robin Sanders in Illinois. She was driving home when an officer pulled her over for having a loud muffler. But instead of sending her off with a warning, the officer arrested Sanders, and she was taken right to jail.
"That's when I found out [that] I had a warrant for failure to appear in Macoupin County. And I didn't know what it was about."

Sanders owed $730 on a medical bill. She says she didn't even know a collection agency had filed a lawsuit against her.
Vivian Joy, 53, told the
Wall Street Journal
she was handcuffed and taken to jail in Champaign, Ill. over a $2,200 debt to Champaign Heights Finance Corp.
"They cuffed me in front of my kids. That was terrifying," Joy, who is unemployed, told the paper. She said she was unaware of a lawsuit or arrest warrant until she was pulled over for a broken taillight.
Kevin Kelly with the Illinois Creditors Bar Association told WBEZ that creditors don't want to send people to jail, but feel they have no other options.
"So we've got five notices that have already gone out either by personally serving them or that have gone out by mail, five separate notices. And we've received absolutely no response to any of them. I'm not certain what more we can do," he told the station
"We hear time and again from the legal aid lawyers who ultimately find out often about these people when they're in jail that people didn't even know there was a lawsuit against them, let alone a judgment had been entered," Madigan told WBEZ. Her office is investigating agencies that may be abusing the law, and said judges need to be fully aware of debtors' rights before such hearings.
Madigan said such practices could lead to modern-day debtors' prisons, and the Illinois Department of Financial and Professional Regulation hopes to ban the practice altogether next year.
Arrest warrants for debtors are "flourishing statewide," Madigan told the
Wall Street Journal
, but Illinois is not alone. The paper reports that judges in nine counties across the country have signed off on 5,000 debt-related warrants since 2010.
http://www.huffingtonpost.com/2011/12/12/illinois-debtors-thrown-i_n_1144093.html?ref=fb&src=sp&comm_ref=false#sb=725066,b=facebook